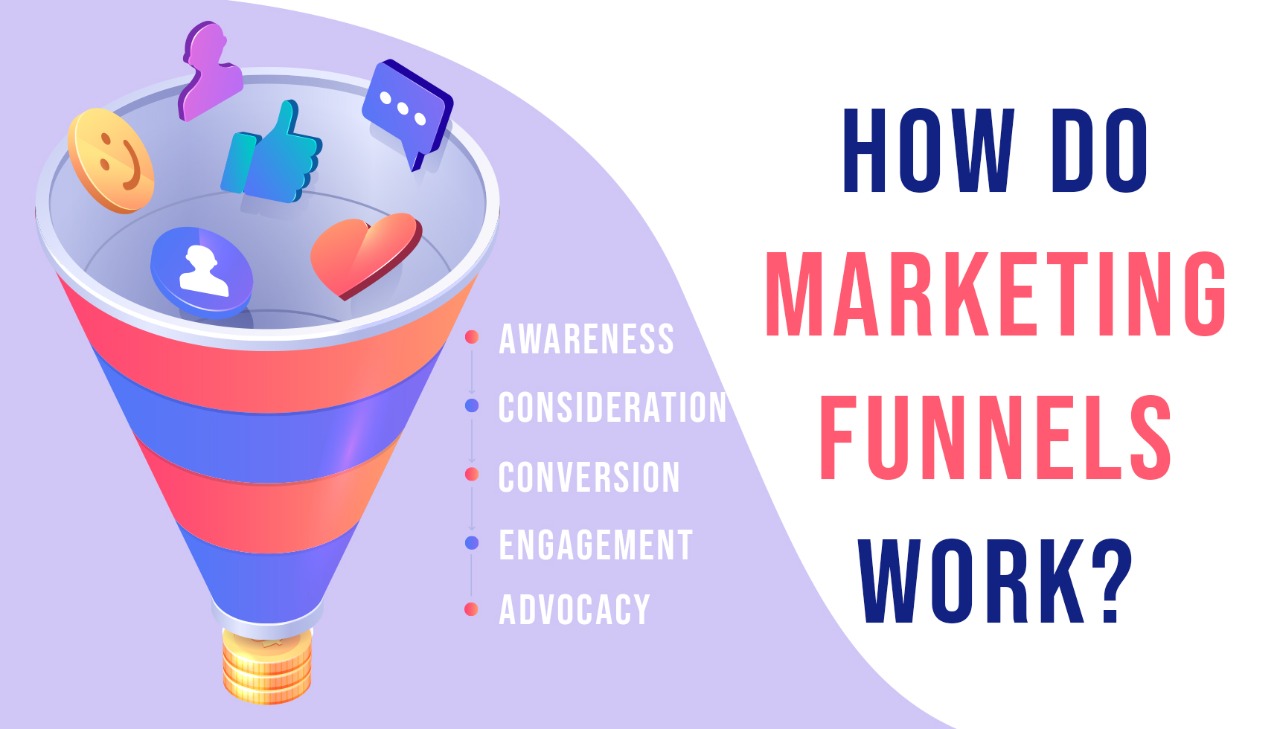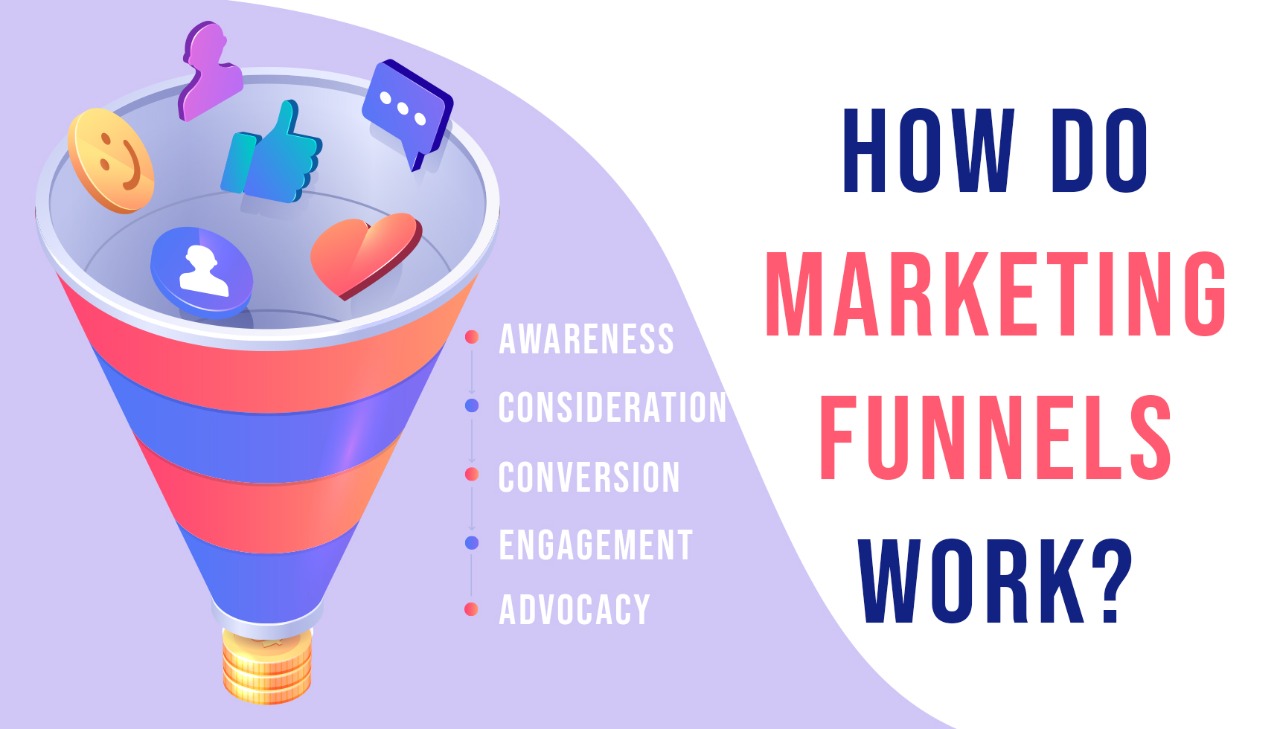 How Do Marketing Funnels Work For Social Media?
Marketing Funnels: Marketing aims to deliver value to consumers through content. Moreover, marketing helps demonstrate product value, strengthening brand loyalty and increasing sales. Even for social media, businesses need to adopt a skillfully drafted strategy. Social media marketing strategies are abundant. It is common for social media to be used at every stage of the marketing funnel, though it starts at the top of the funnel. 
All you need to do is to analyze your requirements. Your social media marketing strategy decides how much you harness this resource. There is a gap between prospective customers becoming aware of your product and the stage where they buy and repurchase it. It is where the marketing funnels apply for a better understanding.

Moreover, Ample Digital Marketing & Training Institute offers the best social media marketing services.
What is a marketing funnel?
Marketing funnels are a visualization of leads converted into customers. In simple terms, marketing funnels describe the journey of prospective customers' conversion to loyal customers. It is described as a funnel as it narrows down with each stage. Marketers target a large number of prospective customers and generate leads. Then, marketers slowly nurture generated leads with product knowledge, available offers, benefits, etc.
Further, these leads are filtered at different stages until they make a purchase. As the process of marketing moves further, leads are eliminated. Not all leads become customers.
Simplify your social marketing funnels with Ample Digital Marketing and training institute.
Marketing funnels for Social Media
Currently, in 2022, there are almost 4 billion users of various social media platforms, and the number is still growing. This means there is a large pool of prospective customers.
The marketing funnel for social media is quite similar to the one for the physical market. Marketing funnels work together as a whole. They create a customer journey that works towards specific goals, reduces friction, builds trust with your audience, and raises brand awareness.
Although the stages of a marketing funnel for social media may vary from business to business, whatever strategy you form must involve sales, happy customers, and a long-term relationship with customers.
At Ample digital marketing & training institute, we divide marketing funnels into five major parts or sections. This will help you to understand how you can utilize your presence and actions on social media to achieve the desired goals. The stages of a marketing funnel go down from:-
The marketing funnel for social media begins with creating awareness among prospective customers. As a business, you should be able to make them aware of your existence. Even if unfamiliar with the brand, serve them something to relate to. It helps them remember your brand. You may opt to provide a solution to a common problem or something of common interest. This information must be valuable so that they remember who you are.
Ample Digital marketing and training institute draft a strategy to reach prospective customers and help them remember your brand.
Posts on social media, videos, and blogs are a great way to increase awareness. Here, our focus is on generating organic leads.
The next stage in the marketing funnel is a consideration. Customers mostly want to know what you offer better than your competitors and how to interact with you from your website. It increases the traffic to your website. Your website is a permanent place to greet your potential buyers or leads from social media. The information provided leads them to the next stage, where they decide to buy your product. Most importantly, the information provided here is clean, simple, and gives the best picture of your products or services.
If you have made it this far with the prospective customers, they are aware of your brand and are looking forward to making a purchase. Please provide them with more information on promotional offers, future benefits, etc.
Businesses require a conversion rate optimization service to know their exact statistics at this stage. Ample digital marketing and training institute offers CRO services and lets you check analytics on various platforms.
Selling once to a customer and leaving them is not a good business strategy. Even after they make a purchase, keep them engaged. Make them feel like a part of the brand. Ask for feedback, and share future offers and discounts.
In this stage, existing customers are used to creating more leads by word-of-mouth publicity. Businesses add value to their purchases by offering different types of benefits. These customers are loyal buyers. They can promote the brand organically in their circle. Businesses can offer them referral codes, etc., to keep them engaged with the business for a long time.
Ample Digital Marketing and Training Institute offers in-depth analysis and optimization services in the process of the marketing funnel for social media. Contact us to get the best social media marketing strategy.